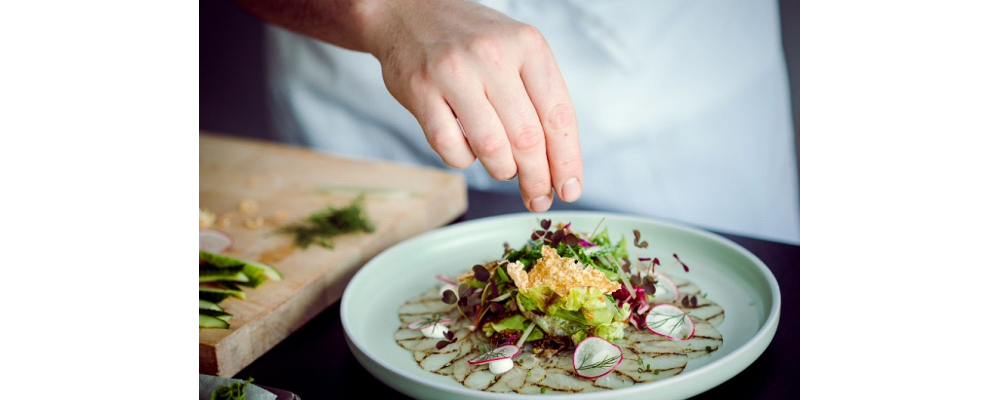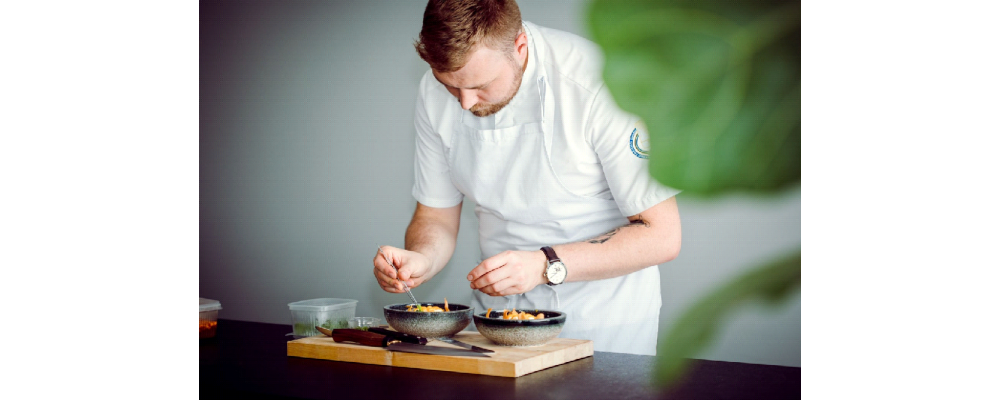 Salt-cured WHITE FISH CARPACCIO with horseradish-quince emulsion and camelina sativa seeds vinaigrette
INGREDIENTS:
Salt-cured white fish carpaccio:
- 1 white fish by preference
- 1l water
- 100g coarse sea salt
- 1 leek
Horseradish-quince emulsion:
- 30g egg white
- 30g sour cream
- 13g horseradish
- 10g lemon zest
- 6g quince juice
- 112ml oil for frying
- 1,5g xanthan
- Pinch of salt
Camelina sativa seeds vinaigrette:
- 15g camelina sativa seeds
- 60ml vegetable stock
- 20ml Kikkoman soy sauce Ponzu
- 15ml Kikkoman naturally brewed soy sauce, disp. 33% less salt
- 10g pickled sushi ginger
- 2g red chili pepper
- 3ml sesame oil
- Salt and ground black pepper, to taste
Pickled cucumbers:
- 2 cucumbers
- 500ml water
- 25g coarse sea salt
- 10g sugar
- 20ml apple vinegar
- 10g dill stems
- 5 garlic cloves
- 10g horseradish
- 4 blackcurrant leaves
- 4 black pepper grains
- 6g fennel, mustard,
- coriander seeds
For serving:
- Crispy whitefish skin Fresh green salad Dill oil
METHOD:
Salt-cured white fish carpaccio:
Bone and de-skin the fish fillet, and reserve the skin for later. Dissolve the salt in the water, making brine, soak the fish into it, and allow to infuse for 10 minutes. Dry on kitchen paper.
To make the leek ash, roast the leeks on a grill or in the oven until completely burnt. Continue drying them in the same oven or food dehydrator at 90°C until completely dried out, then grind them into powder consistency and sprinkle it over the fish fillets. Wrap them in a cling film as firmly as possible – the diameter of the roll could be 5-6cm. Cool down in the freezer. Finely slice into fillets.
Horseradish-quince emulsion:
Finely grate peeled horseradish and lemon zest. Weigh all components and place them in a bowl where it's easy to work with the hand mixer. Blend all ingredients until smooth, mayonnaise-like consistency. Strain through a fine sieve to get a silky emulsion, put it in a pastry bag, and refrigerate until serving.
Camelina sativa seeds vinaigrette:
Soak the seeds in the vegetable stock for 5-10 minutes. Finely chop ginger and deseeded chilli, add to the camelina with ponzu and soy sauces, sesame oil, and season with salt and pepper. Allow to swell for 15-20 minutes until thickened.
Pickled cucumbers:
To make the marinade, lightly roast black pepper grains and seeds in a pot and pour over the water. Add salt, sugar, and apple vinegar, dissolving dry ingredients while stirring. Bring to a boil, then remove from the heat, add garlic cloves, horseradish, dill, blackcurrant leaves, and allow to cool. Soak the cucumbers into the marinade and let infuse in a fridge for 12 hours. Once pickled, take out from the liquid and slice into thin strips.
Crispy fish skin:
Preheat the oven to 70°C. You should have whitefish skin left over. Clean the skin of the scales and remove the rest of the meat. Spread the fish skin smoothly so that it can dry evenly on a baking sheet. Dry in a baking mode without moisture for 2-6 hours – the longer, the better. When the skins are dried, preheat the oil in a pot to 200°C. Deep-fry the skins until golden and crispy. Pat dry and season lightly with salt.
SERVING:
Arrange the fish carpaccio on a plate, squeeze the horseradish-quince emulsion, add camelina sativa seeds vinaigrette accompanied with pickled cucumbers, and preferred fresh green salad. Drizzle with dill oil and finish with crispy fish skin on top.
TIP:
Prepare the dry fish skin day before serving.