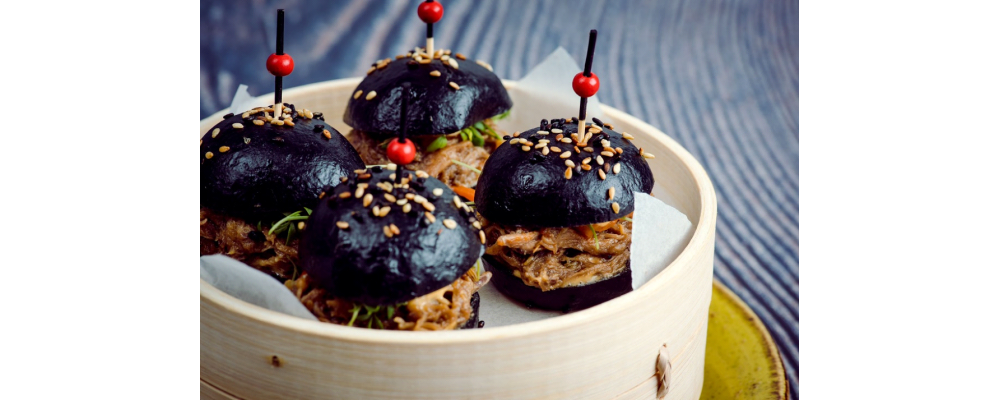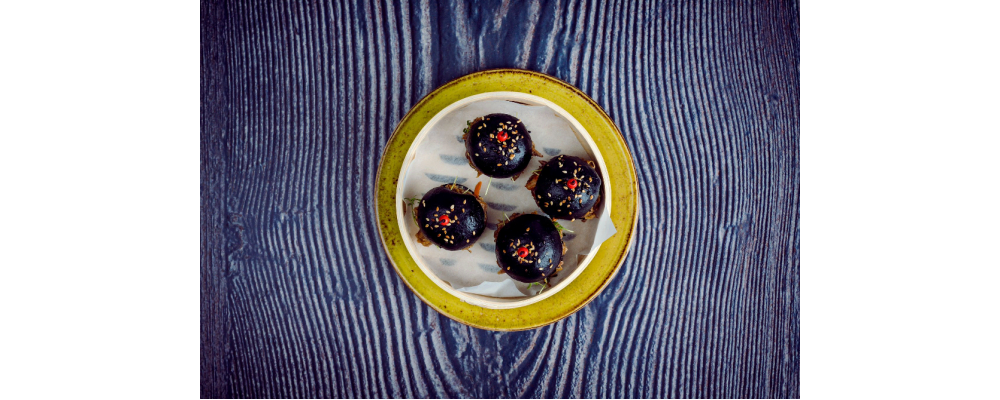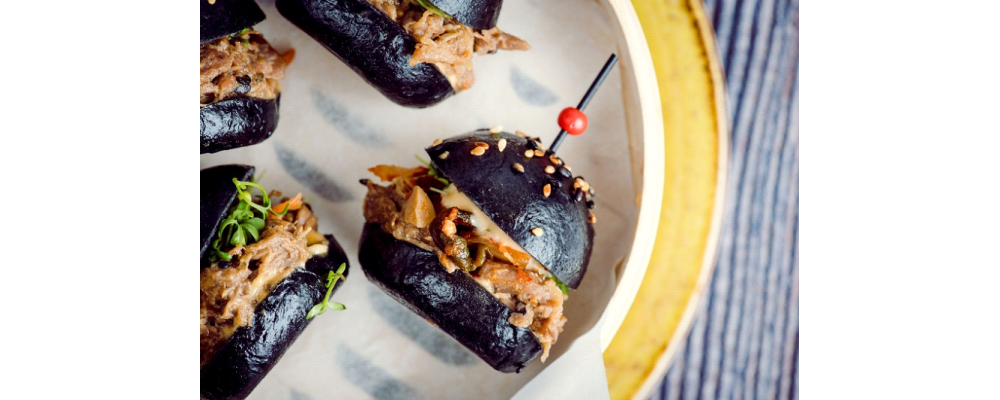 Steamed MINI DUCK BURGERS
INGREDIENTS:
Steamed buns:
- 13g fresh yeast
- 275ml warm water
- 40g sugar
- 500g all-purpose flour
- 10g baking powder
- 35ml rapeseed oil
- 10g salt
- Black food colouring, optional
Teriyaki sauce:
- 250g onions
- 50g garlic
- 35g ginger
- 50g chilli
- 35g mustard seeds
- 20g fennel seeds
- 180ml Kikkoman organic soy sauce
- 500ml Teriyaki sauce
- 50ml lime juice
- Black ground pepper, to taste
- Few kaffir lime leaves
- Rapeseed oil for frying
Duck leg confit:
- 4 duck legs
- 2 onions
- 1 garlic
- 50g ginger
- 1 red chilli
- 50ml Kikkoman organic soy sauce
- 50ml hoisin sauce
- Coarse salt, to taste
- Chinese five-spice, to taste
- Bay leaves, to taste
- Black pepper, to taste
- Coriander seeds, to taste
- Thyme sprig
- Oil or duck fat, to cover
- Teriyaki sauce, to taste
- Chili mayonnaise base:
- 50ml canola oil
- 100g chilli with seeds
- 80g garlic
- 120g onions
- 70g tomato paste
- 2 tbsp salt
- 2 tbsp sugar
- 120ml apple cider vinegar
- Chili mayonnaise:
- 4 egg yolks
- 1 tbsp Dijon mustard
- 500-800ml rapeseed oil
- Sriracha sauce, to taste
- Salt, to taste
- Sugar, to taste
- Apple cider vinegar, to taste
For serving:
- Kimchi
- Spring onions
- Roasted sesame seeds
METHOD:
Steamed buns:
Dissolve the yeast in warm water and add the sugar. Mix all the dry ingredients, add to the yeast mixture, stir until it comes together, then add the oil. Knead on a floured surface for 10-15 minutes. Shape it into balls about 20-25g each, put them in an oiled bowl, and cover with a damp towel. Proof in a warm place for about 1,5 hours, until almost tripled in size. Place the dough on a floured surface, knock out the air, and cut it into tiny portions. Roll the dough with your palms until it is smooth and round. Let it proof under a damp towel for another 30 minutes. Place in a bamboo steamer to cook for 7 minutes.
Teriyaki sauce:
Slightly fry diced onions, minced garlic, ginger, and chilli in a preheated pan with oil to soften. Add the mustard seeds, fennel seeds, and pepper. Keep frying for a couple of minutes. Pour in the soy sauce and simmer for a bit, then add the teriyaki sauce. Add kaffir lime leaves, bring to a simmer and season with lime juice.
Duck leg confit:
Preheat the oven to 160°C. Season the duck legs with salt and Chinese five-spice. Lightly roast chopped onions, garlic, ginger and chili, bay leaves, black pepper, and coriander seeds in a Dutch oven or a large pot. Add the legs. Pour in some soy sauce and hoisin, add thyme. Finally, pour the oil or duck fat until almost covered. Cover with parchment paper and a lid, and bake for about 3 hours. Let it cool in the fat for at least 30 minutes. Pull the meat off the bones and season with the teriyaki sauce.
Chili mayonnaise base:
Place chopped chilli, garlic, and onions in a hot pan to sauté until softened, then add tomato paste and season with salt and sugar. Keep cooking for a few minutes, then add the cider vinegar. Cook for another 10 minutes. Blend and allow to chill before using for the mayonnaise.
Chili mayonnaise:
Mix egg yolks, mustard, chili mayo base, Sriracha sauce, salt, sugar, and vinegar. Gradually add the oil in a thin stream, stirring constantly. Continue to stir until thickened. Adjust seasoning.
SERVING:
Cut the chilled buns in half and steam in a bamboo steamer or the oven with
steam function until warm. Put chili mayo on both sides of the buns. Spoon some duck leg confit on top and pour over the teriyaki sauce. Add a bit of kimchi, roasted sesame seeds, and spring onions